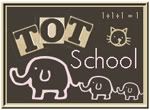 Miss M is 3 years and 7 months old (or 43 months).

I'm doing 2 weeks in 1 here because I forgot to do one 2 weeks ago!
Last week, we had a week full of Circus fun.
We started our week by dressing like clowns. I found the red clown nose at my local thrift store (brand new) a few weeks ago and grabbed it since I knew we would be doing the circus soon. And yes, those are one of my pairs of normal sunglasses (a fabulous Target find, if I do say so myself).
Miss M got a little frustrated with her circus puzzle from
Homeschool Creations
, but she eventually got it. We also used the flashcards this preschool pack, but I printed it out twice on cardstock and we used them to play Memory.
Memory was one of our favorite activities this week.
I introduced the little monster to mazes a few weeks ago and she's getting really good at them. After some googling, I found
this circus maze
where you help the dog find it's way to the big top. It fit perfectly since one of the books we read was
Clifford at the Circus
.
For cutting practice, I used a sheet out of a workbook I have called
Snip It!
by Mead. M cut out the red balloon by herself and I cut out the purple one. She glued both of the balloons to the worksheet.
Our other worksheets this week came from
Confessions of a Homeschooler
. I placed our prewriting worksheets inside of a sheet protector and we used dry erase markers so that they could be reused. I didn't get any good pictures of it because Miss M was getting cranky, but we also used the pattern and counting cards from this tot pack. You can see the circles at the end of her lines in the picture above and to the left. She decided that she wanted to draw Daddy's weights. The one going diagonally is a yoyo.
My favorite project during Circus week was creating a lion mask! I took a paper plate, cut out the center and we glued strips of yellow, orange and brown construction paper around it. Then we glued a popsicle stick on so that we could hold it up.
Other things we did for Circus week that I didn't get good pictures of included watching JoJo's Circus, walking the tightrope - I placed a pink streamer on the ground and we took turns walking across it - and watching Dumbo. We also read
Clifford at the Circus
,
Olivia Saves the Circus
and
The Circus Ship
. I had never read the latter before, but I loved it and the artwork was beautiful.
---------------------------------------------------------------
For Pirate week (2 weeks ago), I couldn't find a pack that I
loved
, so I just went ahead and created my own. It has a total of 18 pages and includes P is Pirate, Prewriting Practice, Cutting Practice, Which one is different?, What comes next?, Counting Cards, Matching Game Cards, Sorting Practice, Mazes, Shadow Matching, Size Sequencing & Picture Seek & Find.
For our art projects, we created our own pirate hats. JoAnn's had a pack of 10 on sale for $1. So we decorated those. We also created our own pirate ship art using half of a paper plate, a popsicle stick for a mast and some stickers. This was also good cutting practice for Miss M. Finally, I found a pirate monkey kit at JoAnn's on sale for $1, so the whole family made one. Daddy drew scars on his with a knife, so M decided she needed some scars, too. She put it together 100% by herself.
Our snack this week was pirate ships! I made blue jello and let it chill in a 4 part serving dish that I found in the party section of Walmart. Once the jello set, I stuck a tooth pick through our foam pirate flag stickers and into an orange slice. Then I just placed the pirate ship on top of the jello. Voila! A delicious (and healthy) pirate snack!
We watched Jake & the Neverland Pirates and Peter Pan during Pirate week. We also read a Jake & the Neverland Pirates book and played a Jake game on both the computer and our LeapPad.
Download my Pirate Pack for free here.