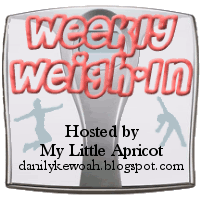 <a href="http://www.mylittleapricot.blogspot.com" target="_blank"><img alt="My Little Apricot" src="http://i62.photobucket.com/albums/h103/danilykewoah/weighin.gif" /></a>

STARTING WEIGHT: 211.6
LAST WEEK'S WEIGHT:181.9
CURRENT WEIGHT: 177.9
TOTAL LOSS/GAIN FROM LAST WEEK: -4.0lbs
TOTAL LOSS/GAIN TO DATE: -33.7lbs
GOAL BY JUNE 30: 174
GOAL BY DECEMBER 29: 145

STARTING MEASUREMENTS: 44 - 37.5 - 46.5 - 29 (chest, waist, hips, thigh)
LAST MEASUREMENTS: 40 - 31 - 37.5 - 23.5
CURRENT MEASUREMENTS: 40 - 30.5 - 37 - 23
MEASUREMENT LOSS TO DATE: 4 - 7 - 9.5 - 6
First, I'm sorry that I missed you guys last week. I was having a lot of trouble with blogger not letting me log in. I
DID
weigh myself and I was up to 181.9 (from 181.6). So it was pretty much a maintain type of week for me last week.
Now, I have to say, I actually thought I was going to gain weight this week. I didn't eat very well, especially with the holiday, and I didn't really work out much. Friday J went to visit his mom, so it was just M & I. We just relaxed and watched a movie. Saturday, M & I walked around the town May Fair for a few hours with our friends. M had fun riding in the wagon with her friend G (which I pulled mostly the whole time). Sunday, my brother and his girlfriend came to have some pizza with us to celebrate his graduating from culinary school. Monday, we spent the day laying on the beach (it was beautiful).
So I really didn't get much exercise in, but it must've been enough because I managed to lose 4 lbs this week - knocking me out of the obese category and into the overweight one. This is a big accomplishment for me! My measurements are still about the same, but I have noticed that my wedding band is very loose lately. I used to be a size 4 in rings, so hopefully, one day, I'll get back there.
ALSO, this weigh in marks 1 year of weigh in's! In 1 year, I have lost nearly 34lbs. That's about 3lbs per month. Not great, but definitely not terrible! I do have to keep in mind though that I weighed in on Wednesday night instead of Thursday morning, so my weight may be a little off the norm.